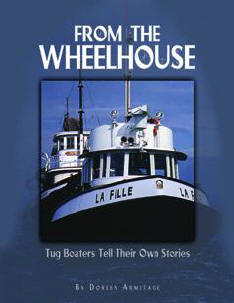 Harbour Publishing...
Beautifully illustrated with archival photos and images from the personal collections of the skippers who appear within its pages, From the Wheelhouse is both a lively, personal look at the history of tow boating in BC and an engaging portrait of the famous coastal characters and vessels that have shaped this regionís maritime history.
"Dozens of great photos of the tugs and crews at work."
". . . excellent archival photos."
8.5 x 11 ∑ 240 pages Hardback
Black and white photos throughout
October 2003
Here are the two Pacific Website's "tug boats in the fog" photos used (side by side) in the book: